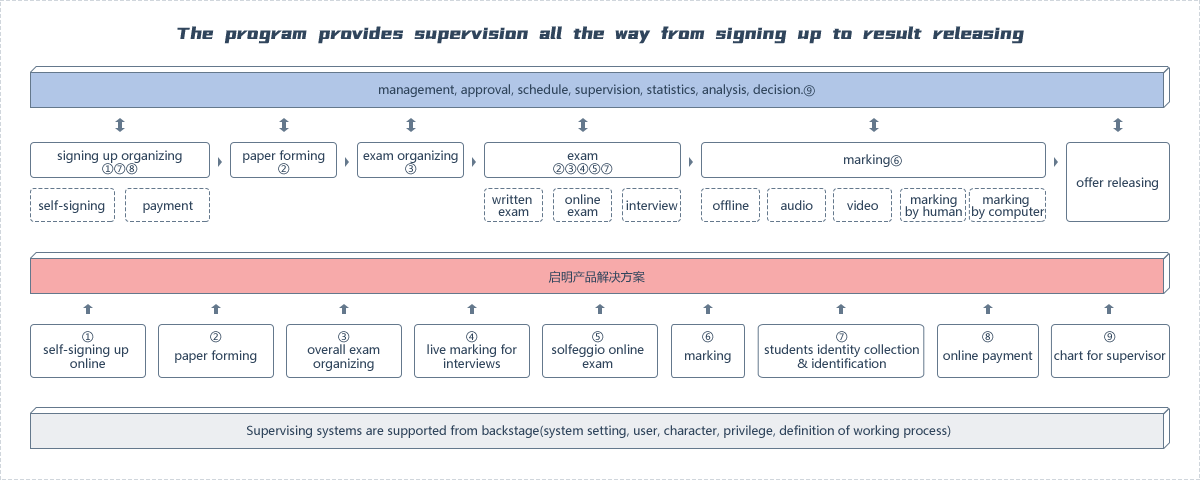 WeChat registration and payment, written examination, interview arrangement, fine arts scoring, phonograph examination, professional confirmation and notification of admission.
TECHNICAL CHARACTERISTICS
Using digital printing technology patents and adopting the "manual + machine" scoring method, it has intelligent and flexible statistics, analysis, and decision-making capabilities, and supports the arrangement of remote and distributed test sites.
WeChat registration payment
Based on the school's independent WeChat official account, complete online registration and payment of candidates.
The functions include comprehensive examination process services such as interview arrangement, examinee registration, random admission of examinees, evaluation by judges, and score synthesis.
It is suitable for single, distributed test center scheduling, supports multiple remote test centers, and the system automatically schedules test affairs according to rules.
Functions include test paper collection, online scoring, quality and progress monitoring, to ensure a smooth and accurate scoring process.
Unified test and on-demand test modes are available. The test process can be finely controlled, and the answer files are backed up locally and on the server in real time to ensure safety.
From proposition paper preparation, intelligent paper grouping, online computer test to scoring, provide solutions for the whole process before, during and after the test.